Resources:
Teaching resources and materials for all my books can be found in the 'Resources' section of this website.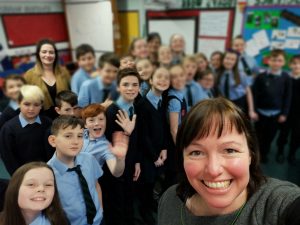 Author Visits and Events
Great News: It's so wonderful to be out and about again. Please contact me if you are interested an in-person visit – or in virtual visits via Google Meet/Teams/Skype or Zoom, bespoke video workshops on creative writing or anything else related to my books. I'd be delighted to hear from you!
As a qualified English and Drama teacher, I have a lot of experience with young people and am keen to get them up on their feet! I frequently work in both primary and secondary schools, but am equally at ease with site-specific events in a range of other venues.
Sample Workshops and Prices:
In addition to the above, I love creating bespoke events for schools, libraries and festivals:
Creative writing activities for primary or secondary schools

Presentations about the publication process, being an author, research and about the story and inspiration behind each book

Drama workshops (related to Highland Clearances, Eco, Victorians, Burns & smuggling)

Puppetry/storytelling workshops including shadow puppetry

Special occasions such as World Book Day/Shakespeare's birthday/Burns Day etc
In-person visits: HOW MUCH?
The Society of Authors recommends that members charge £175 per session (1-2 hours). I know that this can be out of reach for many schools, so I am happy to do a longer visit for that amount or negotiate a price you can afford. Just get in touch (details in the contact section).
One of the best ways to fund author visits is by applying to the Scottish Book Trust for Live Literature funding. A lot of my work is now funded in this way, and they pay expenses too! It is not an onerous application, but deadlines are usually a bit in advance, so I'll happily liaise directly if your timeline is tighter.
And for teachers who may be looking for book-themed activities, here's a wee example: A Book Blind Date