Wilderness Wars is my third novel and asks:
What if nature fights back?
Here is one of the earliest reviews, from Book Blogger of the Year, Linda Hill. I nearly cried!
Oh my goodness. Wilderness Wars is an absolute cracker of a book. It may be aimed at children, who I know will be utterly captivated by it, but I adored it too. Barbara Henderson really is the most fantastic storyteller. She holds the reader captive so that it is impossible to put down the book until every last drop of it has been drunk.
The characters at the heart of the story are perfectly drawn – and this includes the island of Skelsay too. Within just a few pages I felt as if I'd known them for years. Em and Zac are so identifiable for children and it is a stroke of genius to give both sexes a starring role as all children will find a character just right for them. I usually find children in fiction completely unrealistic creations but in Wilderness Wars the are such vivid and three dimensional people who feel completely real.
The plot is fabulous. It races along with a pitch perfect balance between the mundane elements of a child's life, like homework, acting as a foil to dramatic and exciting events that take the breath away. There are some hugely pulse racing moments. I loved the way in which these events are set against the concept of nature, of how we exploit and manipulate nature and how we ought to be just that bit more respectful and careful in our actions. There's so much to think about and enjoy in Wilderness Wars.
I'm finding it hard to praise Wilderness Wars highly enough. I think it is absolutely brilliant. If I were to write a children's book, Wilderness Wars would be the one I would have liked to be able to put my name to. Fantastic!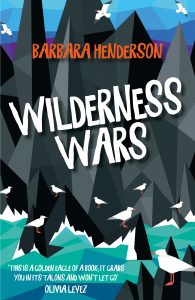 It's a fast-paced eco-thriller with a hint of the supernatural. At its heart are questions like: Should we respect our remaining wild places more? Should we think twice before thoughtlessly imposing our will on them?
Still in a daze, I take it all in: the wind, the leaden skies, the churning moody sea.
And, far in the distance, a misty outline. Skelsay.
Wilderness haven. Building-site. Luxury-retreat-to-be. And now, home.
When her father's construction work takes Em's family to the uninhabited island of Skelsay, she is excited, but also a little uneasy. Soon Em, and her friend Zac, realise that the setbacks, mishaps and accidents on the island point to something altogether more sinister: the wilderness all around them has declared war. Danger lurks everywhere. But can Em and Zac persuade the adults to believe it before it's too late?