The latest news will appear at the top of the page
NEW BOOK!
Coming up: Book Week Scotland!
I have a busy few days planned over Book Week Scotland, including a virtual visit to an Aberdeen school as well as in person events at South Queensferry, Edinburgh, John O'Groats and Inverness. Here are two of the public events in case you find yourself near Queensferry or John O'Groats:
Made from Girders and the end of my Forth Bridge Residency
Made from Girders has been well and truly launched! Thank you so much to all who have helped to bring my Forth Bridge Residency to such a fantastic end! Huge shout out to Luath Press, and especially photographer Alan McCredie for the amazing pictures in the book – I have loved this collaboration.
NEW BOOK!
I am so excited to see this! Made from Girders will be out in October and will lift the lid on what goes on on and around the Forth Bridge – it's the bridge, but not as you know it!
Aberdour Festival
I am so excited to visit Aberdour Festival on the 4th of August!
Aberdour was the very first place my now-husband (and Fifer) took me on a trip in 1992 – needless to say I was won over! I'm buzzing to return this week. If you have youngsters aged 7-13 to entertain and fancy an afternoon of Forth-Bridge inspired stories, interactive drama (I'm a Drama teacher) and engineering challenges, please come and join in!
Rivet Boy, the book I'll be chatting about, is set in Dunfermline and on the building site of the Victorian #ForthBridge. It features lots of real people, places and events, including the very first Carnegie library in the world shortly after it opened!
Summer Signings at Culloden Battlefield
I feel so grateful for the National Trust for Scotland's support of The Reluctant Rebel, my Jacobite book! I will be spending some days there over the summer, signing copies in their gift shop as a thank you, and I started this June.
I have an event at Edinburgh International Book Festival!
I could not be happier – I am featured in the schools' programme on 23rd August, and I cannot wait! you can acccess the programme here.
Virtual Visits Return
After a whole lot of travelling earlier in the spring, I am pleased that there is a little spate of virtual bookings where travelling would be tricky. I was in Dumfries and Galloway for an hour this afternoon, and tomorrow I am taking The Chessmen Thief to Hastings!
#WildEscapes at the West Highland Museum
I had a lot of fun with drama-based nature storytelling, followed by showing my young participants how to do shadow puppetry. I'm still buzzing – anyone else spot the wolf hiding in the pine branches?
Arrol Exhibition at Rozelle House
It was such a privilege to see the exhibition on William Arrol, real-life Victorian engineering legend and character in Rivet Boy. Thanks for inviting me to do a couple of workshops on the first weekend of the Easter Holidays, South Ayrshire Museums!
Lewis and Harris
Here is a wee flavour of my trip to Lewis and Harris, including a PRIVATE appointment with the Lewis Chessmen! I even spotted a very distant (but unmistakeable) golden eagle.
Rivet Boy – the first Month
There are far, far, far too many things to mention here – Paisley Book Festival, followed by more than 20 school and bookshop visits all around the country.
I think I'll let the pictures do the talking instead.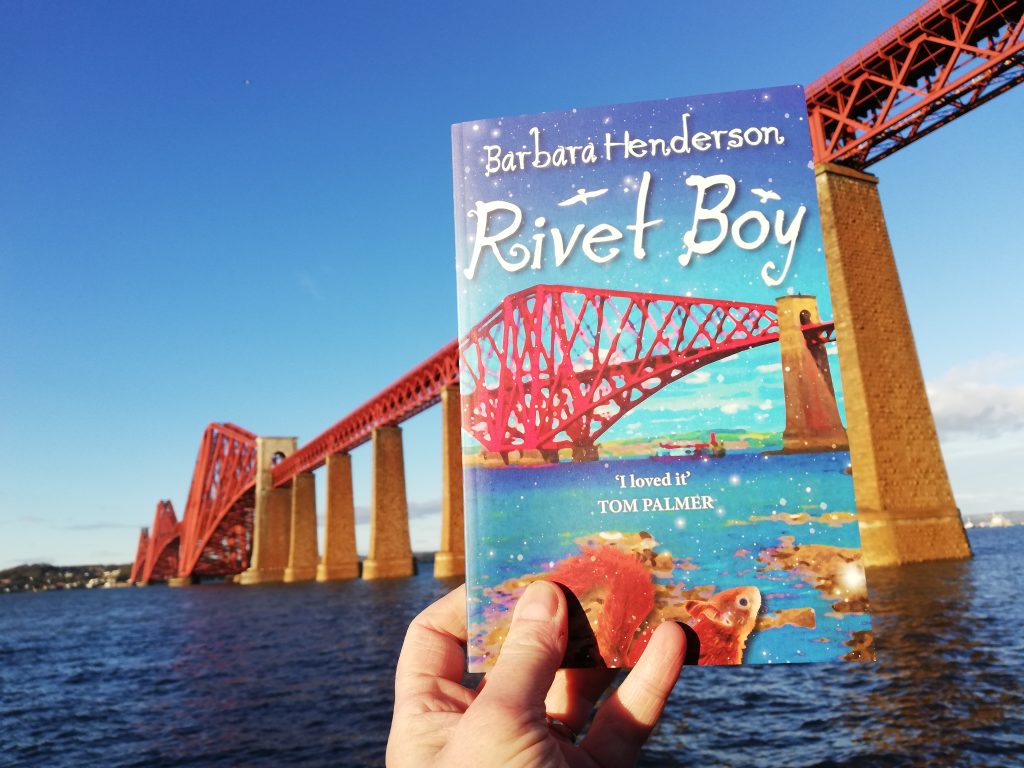 Rivet Boy is out this week!
Thank you so much for a FAB 2022!
From the mysterious dent in my car to dog pictures on the beach, and from London to John O'Groats, it's all here: 2022 in pictures.
A double whammy of great news!
Not only have I just been announced as the Forth Bridge Writer in Residence, but there will be a NEW BOOK too!
New term! I can't wait to get stuck in!
I'm going to the Fringe!
London, Baby!
Young Quills Ceremony, Historical Association
What a lovely time I had at the Historical Association Awards Ceremony in London on the 7th of July! The Siege of Caerlaverock WON its category for 2021, and The Chessmen Thief WON THE PRIZE FOR 2022! Feeling very, very lucky!
Thank you!
The Reluctant Rebel is out in the world! Huge thanks to all who were part of it!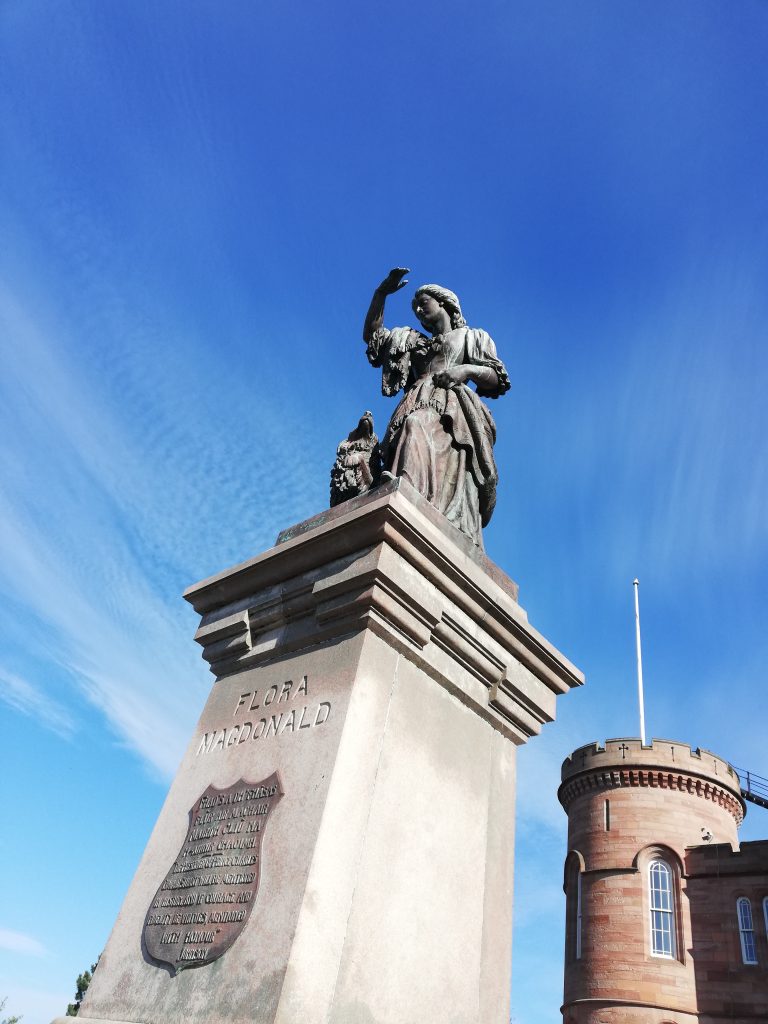 Prepare yourself! The Reluctant Rebel hits the shelves!
Here is my latest video from the Time Tunnellers, a wee nod to #InternationalWomensDay and #WomensHistoryMonth:
The latest news will appear at the top of the page.
Wanted Poster Competition!
I am delighted to announce that Sophia from Catterline school is the WINNER of the competition.
The runners up were Anthony from Alyth Primary:
And Evie from Kirkhill Primary School
All winners will receive their prizes and certificates in the coming days. Huge thanks to all the schools who took part!
2021 – a Gratitude Dump
The year that promised nothing, but somehow delivered!
My expectations for 2021 were well managed. We're in a pandemic – you can beaver away at your writing, Barbara, but don't expect much. Live events probably won't happen. Book releases aren't guaranteed. Festivals may be off. My Scottish Book Trust residency at Findochty Primary had been largely virtual.
Well, here is how it all panned out. The link will take you to my blog.
Young Quills WINNER!
I could not be more delighted: The Siege of Caerlaverock has WON a prestigious Young Quills Award, administered by the Historical Association. I won the 7-9 section, Tom Palmer the 10-14 and Alex Wheatle the 14+ section. Below them are the Highly Commended runners-up. I am still pinching myself!
BOOK WEEK SCOTLAND
I have been busy this Book Week Scotland, with two library events (one public one for Scottish by Inclination and one based on Wilderness Wars for a school, as well as a virtual CPD session for Falkirk teachers). Another school session had to be postponed, unfortunately – hopefully I can catch up with the class at Crossford Primary very soon.
FACLAN ÒGA
I was lucky to have been asked by An Lanntair to take part in the festival again this year. Hot off the press, here is the video I produced for primary schools, including Drama activities and behind-the-scenes information on The Chessmen Thief!
Bookshop Day
I was lucky enough to visit six bookshops on the day, signing my way through huge piles of books and chatting with booksellers around the Highlands. A brilliant day.
Autumn News
I have made an actual, real life shortlist, as well as taking in book festivals at Edinburgh, Nairn, Tain, Inverness and Dingwall. Take a look!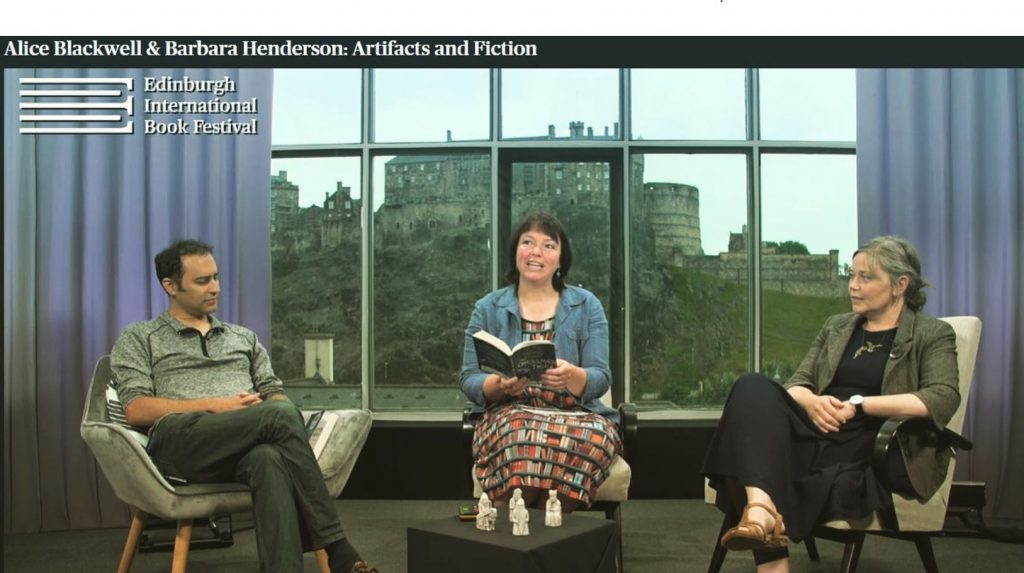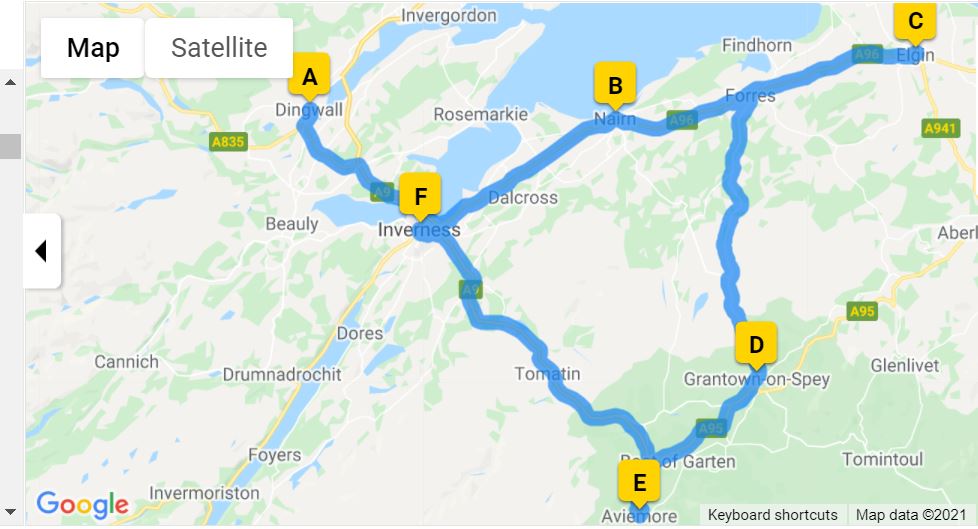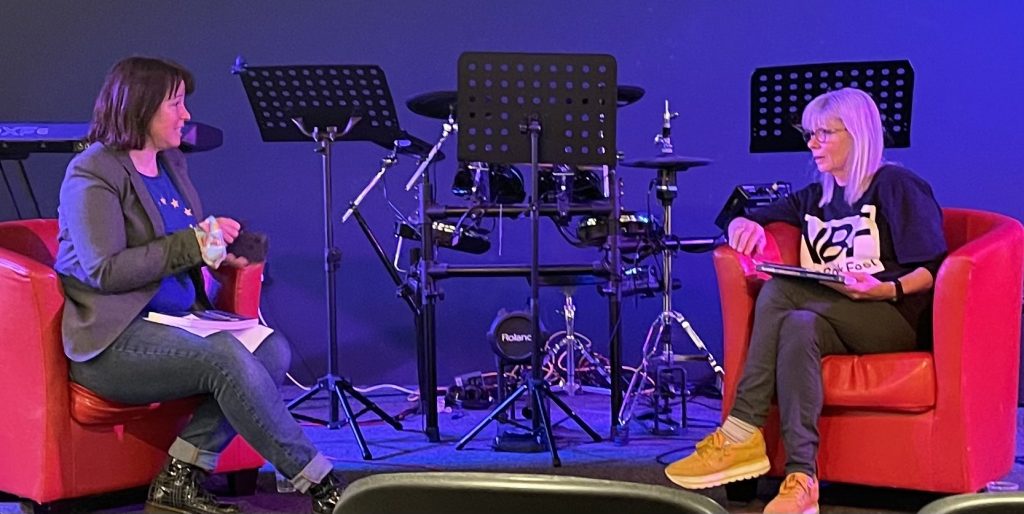 Summer News
I am so excited to be taking part in Edinburgh International Book Festival. This was always the dream, from the very beginning. Seven published books later, I am appearing there for the very first time, to talk about The Chessmen Thief, I will be joined by Dr Alice Blackwell of the National Museum of Scotland who looks after the actual Lewis Chesspieces there. You can book at https://www.edbookfest.co.uk/the-festival/whats-on/alice-blackwell-barbara-henderson-artifacts-and-fiction .
Scottish by Inclination is PUBLISHED!
NEW BOOK!
OUT 23rd June 2021, and this time it's not a children's book!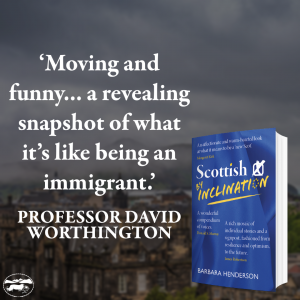 Thank you!
The Chessmen Thief has been well and truly launched, with a trip to the Isle of Lewis, an interview in front of the actual Chessmen on display in the Museum nan Eilean, an E-Sgoil live-stream launch and a public digital event! The wonderful locations in the book didn't disappoint either! 🙂
All Invited!
Please reserve your place by clicking HERE. I'd love to see you there and, contrary to Zoom, you're not visible if you're in the audience. If you can't attend at the time, this link will also take you to the recording – very clever :)!
Lovely Lockdown Learning News
Check out the fantastic press coverage of this Dumfries school's work, based on The Siege of Caerlaverock! Huge congratulations, St Andrews Primary!
World Book Day 2021
World Book Day 2021 certainly looked a little different. Instead of on the road, I spent it in my living room! I still wore by book dress, my book earrings and sat in front of bookshelves drinking from a book festival mug, but my visits were virtual! Thankfully, all the technology worked like a dream. Thanks to West Kilbride Primary and Dingwall Primary for having me!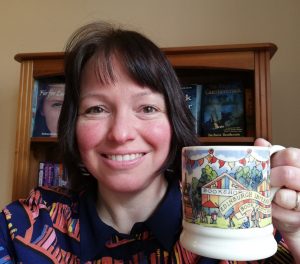 Online Learning support from Cranachan
Some helpful information was shared by my publishers, Cranachan Publishing, regarding the use of books in online learning. First of all, if you are a teacher and hope to record readings of the books, take a look at this statement: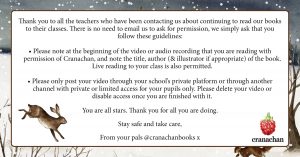 Secondly, the publishers are making class sets of e-books available to schools for only £1 per copy. They say:
2020 – What a year, eh?
January: It began all right, didn't it? I churned out a lot of words in January, determined to write a Viking story set in Scotland and featuring the Lewis Chessmen. My first event of the year took me to Luncarty Primary – these guys deserve a medal – they have had me back every January since I have had books published. I have a narky feeling that this won't be the case in 2021… I also headed up to Park School in Invergordon for a memorable day with wonderfully enthusiastic kids and teachers, even though my Satnav directed me to the middle of a field instead! I also received a little bit of publishers' interest for an adult non-fiction idea I pitched during the XpoNorth Tweet Pitch: Scottish by Inclination.
February: Events at the University of the 3rd Age in Nairn, St Madoes Primary in Perth, Ashley Road Primary and Elrick Primary in Aberdeen among others. But that month will always go down as the month before it all ground to a halt. My husband and I took off to Orkney for a long weekend research trip for the Viking book, and what a wonderful trip it was! I fell in love with Orkney all over again and massively expanded the chapters set there.
March: This month is usually dominated by World Book Day and I had a packed week with Dingwall Primary, Crown School in Inverness and Findochty Primary in Moray. More visits to Glenurquhart and Westhill Primaries followed, but something called 'Coronavirus' was elbowing its way into the news. A big school show I was directing and further school visits that month bit the dust. I resumed writing and editing the Viking book with gusto and began to upload daily instalments of an unpublished book of mine to YouTube for teachers to use for free: The Dog Walking Consortium. My friend Corrina Campbell kindly allowed me the use of her illustration.
April: 26 days of posting a daily chapter to YouTube provided a bit of a routine, especially during a period of covid-induced isolation. Thankfully, my symptoms were mild. Other than that, April was the month of cancelled gigs, including the John O'Groats Book Festival which I had really looked forward to.
May: With the Viking book off to the publishers, I began work on two projects simultaneously: the adult non-fiction and another Middle Grade book, set in Victorian times and industrial. One of my first proper digital events was a session for the Society of Children's Book Writers and Illustrators, on working with an independent publisher, and the advantages and disadvantages of not having an agent. It was so good to be a writer again! With all my family at home and my husband working crazy hours as a public health doctor, most of my energy went into simply keeping the show on the road! The end of the month saw the publication of the Stay at Home anthology. I was lucky enough to be asked to contribute a short story. What a fab initiative by my wee publishers to round up 40 writers across Scotland to make some sort of sense of Lockdown!
June: I was at home. The balance had tipped and I was now devoting most of my time to writing the adult non-fiction, Scottish by Inclination. I had been advised to apply for funding from Creative Scotland and I sent the application off with everything crossed. Meanwhile, I was also assembling teaching resources for my next book, The Siege of Caerlaverock, which was due out in August. Despite the continued lockdown, my publishers decided to go full steam ahead with their schedule. I was grateful. It made things feel a little more normal, especially as I did battle with online teaching via Google classroom. I was also glad to virtually attend XpoNorth which is normally a non-negotiable fixture in my calendar.
July and August: Incredibly, Historic Environment Scotland were keen to collaborate on resources for The Siege of Caerlaverock, which was such a boost. More incredibly, Creative Scotland approved my application for funding, so I began to work very hard on Scottish by Inclination, leaving the Victorian idea to one side. Publicity for The Siege of Caerlaverock was in full swing, and that included a radio interview with BBC Scotland's Afternoon Show, being interviewed by the fab Nicola Meighan. The Zoom launch for the book was fun and mercifully went off without a hitch, and The Siege of Caerlaverock did reach number 1 on Amazon which was the cherry on the cake!
September was all about the Scottish by Inclination interviews. I talked to footballers and academics and artists and activists – one of the most stimulating months of my writing career, and all from the comfort of my wee study. As my children left for Glasgow and London, the semblance of normality returned, even if only for a while. Our own book festival in Inverness had been cancelled, but I ran a live workshop for Wigtown Book Festival, complete with shadow puppetry – being part of that had long been a dream.
In October, I even managed to fit in a flying visit to my 83-year-old mother on the continent, and I was utterly consumed by the writing of Scottish by Inclination. The interviews continued and I was reaching the end of my first draft. Now all I had to do was edit my hastily poured out words.
November: I was lucky to have digital live school events for St Monans Primary, the Mull and Iona Schools festival and for Dallas Primary, as well as recording content for Findochty and Dalmellington. I also submitted the finished Scottish by Inclination to a publisher for consideration. Best of all, I was awarded a Scottish Book Trust Schools Residency with Findochty Primary. If you would like to know more, you can read about it at https://www.scottishbooktrust.com/writing-and-authors/live-literature/school-residencies/introducing-live-literature-school-residencies. Unbelievably, my first visit there was actually in person as all of us were in the lowest tier. So good!
December. And here we are. There will be no travelling and no family visits over Christmas, but I am lucky to have my family here and we are well. The Siege of Caerlaverock is out in the world, and just last weekend, my lovely publishers announced the cover and publication date of The Chessmen Thief.
Considering what a year this has been, I really, really can't complain. I can't thank you all enough for your support, your encouragement and your banter when I have needed it most.
Wishing you all a peaceful Christmas and a 2021 in which we are free to roam, and to hug our friends.
Cover Reveal: The Chessmen Thief, here on 29th April 2021!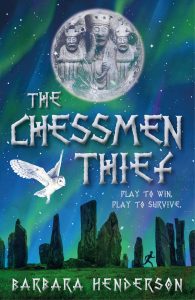 I couldn't be more excited to let you all see the cover for my next book, a Viking adventure called The Chessmen Thief. It's based on the famous Lewis Chessmen. My Dad was a keen chess player when he was alive and I have always had a real affinity with the game, although I am not very good at it. My earliest memories are of my Dad coming home from the chess club he played for and bringing home a bag of crisps for my sisters who had to babysit me on those Thursday nights. This is my Dad and my brother in law playing chess. My Dad is on the right and in the shadows.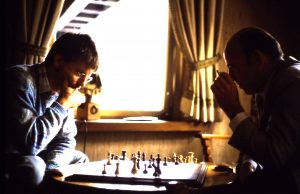 3rd October: Wigtown Book Festival
I am so honoured to have been invited to run a LIVE workshop at this wonderful festival which I have longed to visit for years! You can register here!
The Siege of Caerlaverock reaches No 1 on its release, both in Kindle and Paperback
I could not have asked for more as I send this wee book out into the world!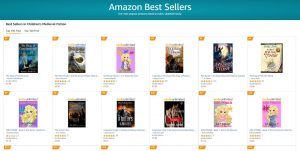 Creative Scotland Funding for New Project
I have been awarded Creative Scotland funding for a new project called Scottish by Inclination. It'll explore my 30 years in Scotland & profile other EU citizens who have made their mark here. I feel strongly about this one and could not be more excited to get started! While it is undoubtedly a departure from the type of books I have written to date, I look forward to the challenge and am so grateful for this support of both me as a writer, and of a project I think is important and timely.

.
Book Trailer for The Siege of Caerlaverock
I am DELIGHTED with the book trailer for The Siege of Caerlaverock! Check it out!
Inclusion in Wiki video
I was astonished to discover that I have been included in a just-published '5 authors of challenging and engrossing books for young readers' list on the wiki.ezvid.com site! You can watch it here. It's not every day that I get messages from Los Angeles. 🙂
What am I doing during Lockdown?
Some of you have asked what I'm up to at the moment, particularly since I am unable to do school visits which is the bread and butter of my writing life. Well, I finished a Viking story which is currently with my publishers for consideration. I spent a fair bit of time on recording an unpublished story of mine, The Dog Walking Consortium, on my new YouTube Channel. I have begun researching a new book, a Victorian idea with plenty of interesting angles, but I'm not going to be able to disclose more right now. And, of course, there is plenty of time to learn, so I completed an online screenwriting course, and have just started a Shakespeare one which I am doing with my daughter.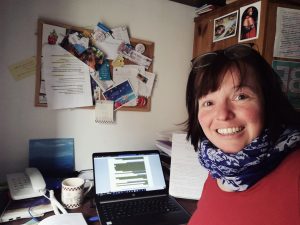 As The Siege of Caerlaverock is out in the summer, I have done a bit of promo work for that: organising a blog tour, pitching articles etc.
So, that's where I am at. I'm still teaching online a couple of days a week too, and with five of us in the house, I'm kept pretty busy. I hope all of you out there are keeping well. If the real world gets a bit much, escape into a book. It works for me!
Cover Reveal
My next book has been revealed! The Siege of Caerlaverock will be out in July. You can read all about the process of how the cover design came together on my blog here.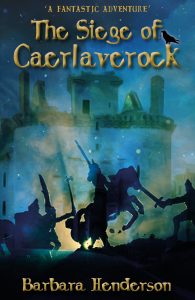 YouTube Channel
I am reading a daily chapter of an unpublished book, The Dog Walking Consortium, on my brand-new wee Youtube Channel. Find it by clicking HERE.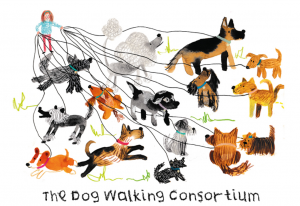 Thanks to my illustrator friend Corrina Campbell for permission to use her gorgeous image!
Research Trip to Orkney
You may know that I am writing a Norse Scotland manuscript at the moment. So it had to be done – a site visit to some of the places in the book, especially Orkney which wasn't going to be a key setting but sort of elbowed its way into the story. A few cancelled ferries added to the adventure. Note: pick a warmer month next time! 🙂
I took my husband and a couple of friends, too. 🙂
2019 – The quick version
A write old year! What did I even do? What DID I do?
My mind predictably draws a blank when I ask myself questions like this, so let's have a proper think, eh?
January saw me do author events in Balloch Primary, Luncarty Primary and Inverness Royal Academy. I also met up with my pals from the Society of Children's Book Writers and Illustrators in Edinburgh. Oh, and my oldest left home to go to Egypt – a bit of a biggie for the family.
February began with delivering a storytelling session at the fabulous Brodie Castle. In the castle library, no less! So many castle themed stories to choose from… Author visits to Hamilton and East Kilbride among others, but the event of the month was really the beginning of the Artyness column which I began to write fortnightly, alternating with musician and writer Liza Mulholland, and which goes out in the weekend edition of a whole clutch of North of Scotland Papers. So much fun!
World Book Day means that March is always busy! Hamilton, East Kilbride and Findochty in Moray, a visit to the local RSPB Wildlife Explorer group, Fort William and the fabulous Scottish Association of Writers conference for which I was honoured to be an adjudicator and speaker. But the biggest challenge was reading the audiobook of Wilderness Wars which took hours and hours and hours! Who even wrote this unpronounceable prose?
April – the holidays are upon us, so it's a quieter month, apart from a small number of events including the lovely Pitcairn School in Perthshire.
May – I was one of the three lucky spotlight authors for the Cromarty Crime and Thrillers Weekend. It was also the month of Queen Victoria's Bicentenary, so I visited all the locations of my Victorian book 'Punch': South Morningside and Tollcross Primaries in Edinburgh, St Ninian's in Perth, Waterstones Inverness and the Victorian Market in my home town – and Crathie School near Balmoral Castle, one of the key settings in the book!
June – Author visits to Fort William and Cauldeen Primary as well as the new library in the Merkinch Family Centre among others. July saw the fantastic XpoNorth Festival return to Inverness and we went for a research holiday to the Isle of Lewis. I'm currently knee-deep into a late Viking Scotland story as a result. In August, I was lucky enough to appear alongside allround legend Maggie Craig at SEALL, Skye, for a writing workshop on bringing the past to life. Of course, the highlight of my year is the Edinburgh International Book Festival where all three of my books were in the festival bookshop!
Back to normal in September, with a clutch of author visits and school events, including a trip to Sherborne School in Dorset and one to Aberdeen, as well as taking oldest to university. In October, all of this intensifies, with visits to Muckhart, two more Aberdeen events, the fab Word on the Street festival in Dingwall and, finally, the launch of Black Water, my new novella for 8-12 year olds at Waterstones Inverness. Most of my fellow writers published by Cranachan Publishing were there – my clan!
The very next day (and now into November), I'm on a train to Aberdeen again for the international kidlit quiz. Flying to the Isle of Lewis a few days later for the Faclan Oga festival is a particular treat: three school events in quick succession. Bridge of Don Academy and the official Black Water school launch at my home school of Cradlehall follow, as well as visits to Merkinch, Aviemore, Mountfleurie, Perth and Glenurquhart primaries. Best bit? Joining the Mobile library van on its round past Aldourie and Foyers Primaries – what a fantastic service, and how valued by its customers in remote places!
And so I wind up the year in December by guesting at the young writers café for Moniack Mhor, taking part in Bookpenpals and #bookfoundxmas and by looking back gratefully. If anything, writing a post like this helps my own memory and keeps me right. Writing can be a stationary and solitary business and it's good to remind myself that I actually did do something this year… ?
Happy 2020 to you all! Thanks for chumming me along, and letting me chum you in return!
US performance of my script
I was beyond excited to see that my adaptation of Charles Dickens' A Christmas Carol was performed in a special school in the US before Christmas. Thanks so much to Brian, the teacher, for sharing this image!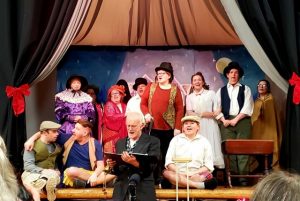 The Black Water Book Trailer is LIVE!
Watch the BOOK TRAILER for Black Water here! It's fab! I especially love the music, the map and the slow motion horse. Many thanks to Ross Wiseman of WisemanFilms for putting it all together!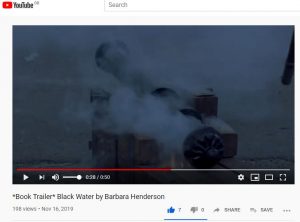 Black Water School Launch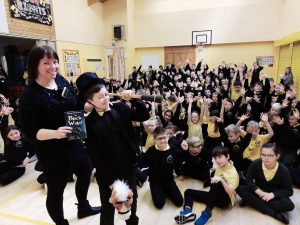 The Black Water school launch took place at Cradlehall Primary School. An incredible 43 copies of Black Water found a new home today!
Black Water launched at Waterstones Inverness
I could not be more delighted with how the launch for Black Water went . Alongside Richmond Clements who has adapted Robert Burns' famous poem Tam O'Shanter for a graphic novel, I read from my wee smuggling novella and the audience were also treated to live renditions of poetry from actor and fellow Cranachan author Joseph Lamb. A fab night, made even better by having so many of my Clan Cranachan with us to introduce our books to the world.
Black Water set to sweep into a bookshop near you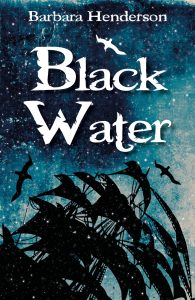 I can't wait! The manuscript is finalised, the blog tour pretty much organised – and the book launch set for 31st October. Yes, Brexit Day, but I'm trying not to think about that…
I'm thrilled with the awesome quote author Ally Sherrick has given us and which will appear on the cover:
'A glittering, real-life adventure swirling with secrets, suspense and nail-biting action.'
Middle Grade Extravaganza, Glasgow
What a great time I had at the packed events area at Waterstones Sauchiehall Street for the launch of The True Colours of Coral Glen by my fellow Middle Grade author Juliette Forrest. I got to meet Victoria Williamson and the poet Louise Peterkin, too. I read a bit of Punch and sat on a panel with all those lovely ladies. A brilliant way to spend a Thursday night, and well worth the train trip!
Middle Grade Extravaganza, Glasgow
I am so excited to meet some of the best writers working in Scotland at the moment: Victoria Williamson, Louise Peterkin and Juliette Forrest who will be launching her new book at this event. If you find yourself in Glasgow on the 11th of June, do pop into Waterstones Sauchiehall Street in the evening!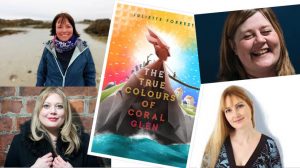 Victorian Bicentenary Tour
High time I showed you some of what I've been up to! It has been so much fun so far. I've been to Edinburgh, Perth, Crathie, Balmoral Castle and the Inverness Victorian Market. Now I only have two more book shop events to go. It has been a BLAST!
Cromarty Crime and Thrillers Weekend
Got a chance to hang out with the big kids at the Cromarty Crime and Thrillers Weekend. I was honoured to be the warm-up act for Shona MacLean and also rubbed shoulders with the very entertaining and lovely Ian Rankin and Lesley Kelly. On top of that, it was my privilege to judge the short story competition alongside fellow Spotlight authors Vee Walker and Neil Lancaster. All entries were anonymous, of course, but the win for local writer Neil Hepburn of Inverness was utterly deserved – what a dark, entertaining vision of an ornithology field trip!
Pitcairn Primary
I was so lucky to be invited to Pitcairn Primary School in Perthshire. Their wonderful P6/7 class have been reading Fir for Luck to accompany their Highland Clearances topic. What sparky, lovely kids.
Check out the considerable acting talent in the picture, too! In particular, look at the guy on the very right – that face has me in stitches! For those who don't know the book, this is the moment the shocked villagers realise that they are to be evicted.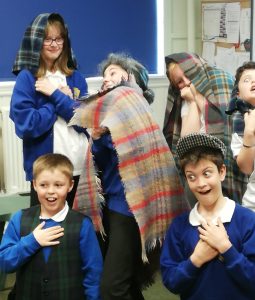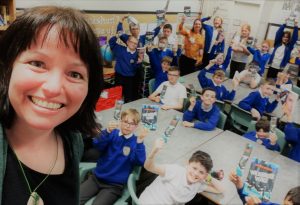 That's a Wrap!
The audio-book of Wilderness Wars is DONE! There will be some editing, of course, but I am so chuffed – a real sense of achievement!
Scottish Association of Writers 50th Anniversary Conference, March
I was hugely honoured to be an adjudicator for the prestigious TC Farries Crystal Thistle Award at this recent event. In addition to my adjudication speech, I also got to deliver a workshop about writing for children which was a wonderful opportunity to touch base with other children's authors. Best of all, the conference was a brilliant chance to catch up with some old friends!
Author visit to Aldourie
It was so much fun to talk to the lovely and welcoming pupils at Aldourie Primary School about eco-fiction and Wilderness Wars. They were already halfway through the book and had done some excellent work. I was blown away by the fact that most of them chose the rodent chapter as their favourite! REALLY?!
Libraries Rock
I'm so grateful to Inverness Library for including me in their fantastic 'Local Authors' wall!
Wildlife Explorers
It was a such an honour to join the Inverness Wildlife Exploreres at the Ness Islands for a Wilderness Wars session. It was a particularly lovely group to visit, as I was a leader for the same club during the time I was writing the book. Connecting young people and nature was very much on my mind then. Some of the faces are even the same!
Audio Book in the Making
I spent a very enjoyable hour at the Music Shed in Inverness, recording a wee trial sample of Wilderness Wars! I got the gig, so I have two further sessions lined up this month to read the whole thing. EEEK!!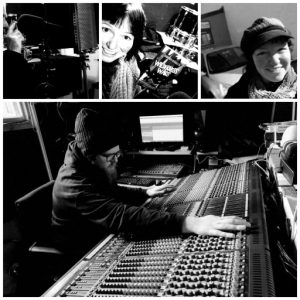 World Book Day, Scottish Book Trust Awards and more…
A lot of fun visiting schools in Hamilton, East Kilbride and Findochty in Moray, as well as attending the Scottish Book Trust Awards in Glasgow!
Society of Authors Award for Luncarty
I've had some brilliant news! After a third visit to one of the most proactive schools (in terms of promoting reading) I've ever come across, I decided to nominate Luncarty Primary School in Perthshire for a Society of Authors award. And guess what they tweeted today!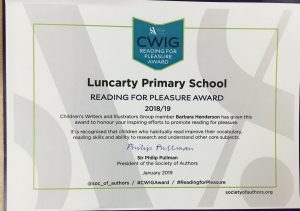 Hot off the Press: Artyness Column
As of the beginning of February, I have a fortnightly column on all things books in Scottish Provincial Press publications. The Artyness column will appear in the 7 Days magazine and mine will alternate with columns by my friend (and musician) Liza Mulholland.
Chuffed, as I get a chance to write about things I really care about!
Happy Burns Day
This was put out by my publishers on Burns Day. 🙂 🙂 🙂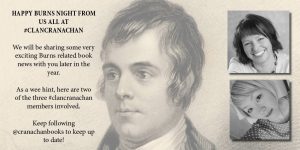 Luncarty
I was so privileged to be invited back to Luncarty Primary School in Perthshire for the THIRD TIME! It is a really special school for me as they have been utterly supportive from the beginning. This time, three year groups were reading my books: P7 were doing Wilderness Wars, P6 were reading Punch and P5 Fir for Luck. Thank you for being so kind, Luncarty!
Balloch Primary School Visit, January
I had the privilege of visiting the wonderful P5 in Balloch Primary to talk to the kids about Fir for Luck. I was so lucky to have a lovely message from the teacher a few days later!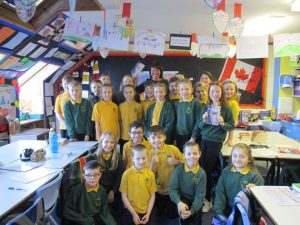 Wilderness Wars is Scottish Book of the Week in the first week of 2019!
If it hadn't been for a perceptive Twitter pal, I might have never known – Wilderness Wars was Scottish Book of the Week in the Dundee Courier! Delighted!
Happy New Year!
If you'd like to check out the highlights of my writing year in 2018, hop over to my blog! A brief and punchy month-by-month account of the year that was, the highs and the lows.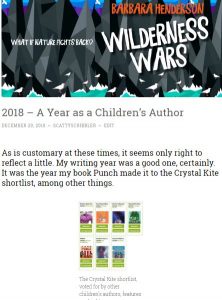 Book Week Scotland and all!
November 2018 was officially the busiest events month I have ever had! Fantastic fun, from Peebles to Tongue (and a fair few places in between)! Book Week Scotland and loads of other bits and bobs. During November this year, I definitely felt like an author!
November

is set to be incredibly busy! It would be great to see you at some of these events!
14th November Helmsdale Primary
15th November Dornoch Academy One-to-one creative writing sessions
15th November 6-8 pm: Free class for aspiring children's writers, Eden Court Theatre
20th November Book Week Scotland Event, Read-a-licious, Eastgate Arts, Peebles
21st November Book Week Scotland event, Tongue
22nd November: Holm Primary School visit
22nd November 6-8 pm: NessBookFest Book Week Scotland event, 'Rebel then, Reel now'
24th November 10.30: Author and drama session on 'Rebel Kids' at Picaresque Books, Dingwall
28th November : All day Puppetry Workshops at Goodlyburn Primary, Perth
30th November: St Lucy's Primary, Cumbernauld
October
My very first SKYPE author visit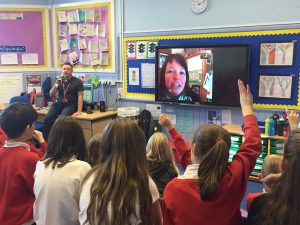 I was privileged to talk to the very lovely P6c at Towerbank Primary School in Edinburgh. They had finished reading Wilderness Wars as a class and had loads of excellent questions!
Word on the Street
I am going to be appearing at the wonderful Word on the Street!
A festival in Dingwall, they have asked me to do a puppetry workshop (18th October 2pm) based on my novels, as well as a panel event on women voices in the Highlands (Friday 2pm). See the programme for more details!
Puppetry Workshop with Barbara Henderson
2pm Library 5 – 10 years
Puppetry is sometimes considered a forgotten art, but with its immediacy still wins over young audiences. Try your hand at operating string puppets, glove puppets and shadow puppets, learn about Victorian Punch and Judy shows and create your own shadow puppet to perform with and to take home. Children's novelist, playwright and puppeteer Barbara Henderson will use extracts from her novels and traditional tales to inspire young, and not so young, performers.
Women's Words 2pm Ross-shire Club
Three Highland-based women authors, Barbara Henderson, Helen Sedgwick and Cynthia Rogerson, will read from their work and discuss the challenges and opportunities for women writers in the north today. The event issupported by the WEA's Women in the Highlands project, which marks 100 years since some British women gained the right to vote. We are delighted to feature these talented Highland writers who will also talk about their own personal writing journeys as well as other topical issues facing women writers today.
We're in a national MAGAZINE!!!
Check out my article in the UK's leading Writing magazine, Writers' Forum: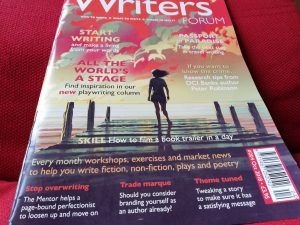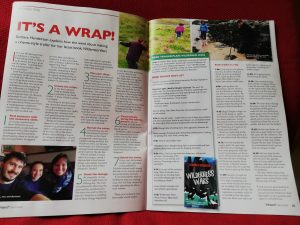 September: Historical Fiction Festival in Grantown and some glorious coverage.
September will be dominated by continued Wilderness Wars events and a frantic scramble to the deadline for the yet untitled Jacobite manuscript I am currently writing. But The Bookmark's Young Readers' Festival will throw me right back into historical fiction, with Punch and Fir for Luck both featured on the programme.
Unfortunately, my Nairn Book and Arts Festival appearance at Brodie Castle will have to be cancelled due to a close family bereavement. Apologies to those who were planning to attend.
Meanwhile, Wilderness Wars somehow found its way into Strong Words Magazine's top ten new fiction titles for young readers. I'm so pleased.
AUGUST: Wilderness Wars is OUT!!!

JULY: The BOOK TRAILER IS LIVE!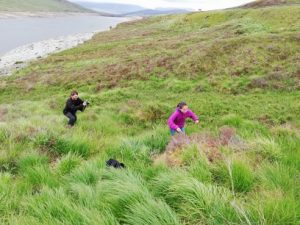 June
In June I travelled to Gourock for a school visit to St Ninian's RC School, attended book launches and the fantastic XpoNorth Festival. Of course, shooting the book trailer for Wilderness Wars was my favourite bit!
Dingwall
I had a lovely time at Dingwall Primary in early June. They were winners in May's competition for a free author visit, so I packed my Punch-suitcase and headed off. An infant and an upper school assembly with plenty of drama fun followed, and Dingwall Primary are now the proud owners of signed sets of Punch and Fir for Luck!
Crystal Kite Shortlisting
I could barely believe what I was seeing, but Punch has been shortlisted for the Crystal Kite Award, a peer-given prize by the Society of Children's Book Writers and Illustrators. All members of the SCBWI in the UK and Ireland can now cast their vote for one of the final seven by 24th May. As you can see, I'm in excellent company!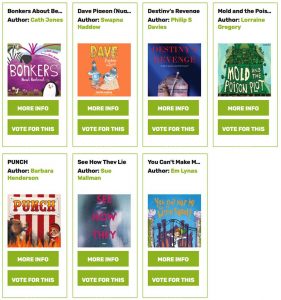 Pairc School on Lewis
How lucky I was to be asked to Pairc School on Lewis, as part of the Scottish Book Trust Inspiring Classrooms funding. It was also the perfect chance to catch up with Anne Glennie, to see a bit of the island AND pay my first ever visit to Cranachan HQ, which was exciting. Oh yes, and Hebridean Huts is officially the nicest place I have ever stayed! Small but perfectly formed and with views to die for!
Ace April
April was lovely, actually: a visit from my 81 year-old mother, a wedding for which I actually get the Cupid-credit (the Punch cover illustrator married the film guru who made my book trailers!), a research visit to Dumfries and Galloway, and a whole lot of writing and editing. There was also a school visit to Crown School, a couple of pieces for The Wee Review and my first foray into National Trust for Scotland events. All good then!
Mad March
What a month it has been – I travelled all the way north to Kinlochbervie, and south to Hamilton, for author visits. Two more creative writing workshops for Groam House, as well a visit to Fortrose Academy (an assembly for 100 S2 pupils), a Society of Children's Book Writers and Illustrators session, NessBookFest initiatives, not to mention a major show for the day job, teaching Drama, for which I adapted the script from a class novel! I feel I've barely come up for breath this March, but fab times were had! 🙂
World Book Day
I was approached by Turkish news channel TRTWorld for an interview about World Book Day! I nearly fell off my chair when I saw the email, but as it was all done via Skype, it was really fun, if a little surreal! Watch it HERE.
In addition, I spent the day at the unbelievably friendly and enthusiastic Lochardil Primary School. I had such a lot of fun!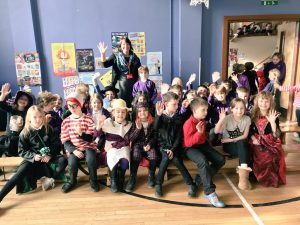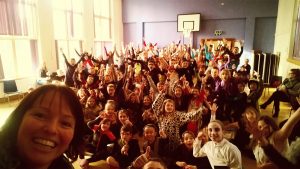 Aaaand… MY NEW BOOK WAS ANNOUNCED!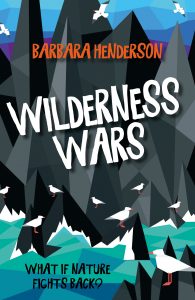 Visit to Tongue Primary for Rob Donn Workshop
What a lovely time I had with this great gang of young writers! There is serious talent and imagination in Tongue, and you heard it here first! The scenic drive up and the great company and welcome in Sutherland made for a very enjoyable day. Can't wait to do it all over again in Kinlochbervie soon. Many thanks to Groam House Museum for organising the sessions, and to the Scottish Book Trust Live Literature programme for funding them!
Groam House Creative Writing Workshops
The Creative Writing workshops at the Black Isle Leisure Centre have reached the halfway point and we were looking at ways of hooking the reader, making him or her choose your story above any other. What better way to warm up than a 'Book Blind Date'? Throw in a bit of original live music, coffee and waffles, and you have the recipe for a very successful and productive morning. Excellent effort from all!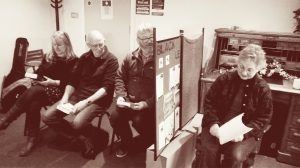 Creative Writing Workshops on the Black Isle
I have begun teaching some creative writing workshops on behalf of Groam House Museum, in association with their ARCH Highland project, researching The Great War and its impact on the communities in Avoch, Fortrose and Rosemarkie. We had some very interesting research to stimulate ideas, but the ten participants were free to create what they felt strongly about, with some inspiring and moving results. The remaining dates are 22nd February, 8th March and 15th March. Contact Groam House if you are interested in attending. Free. 🙂
Crazy January:
An evening with the good folk at HighlandLIT, a school visit to Kirkhill, another to Luncarty – the diary has been full. A wonderful run of events, especially as Luncarty pupils are studying both Fir for Luck and Punch in class!
Book Week Scotland
A library, a youth club, a garden centre and a book shop! These were my venues this Book Week Scotland, and I have loved every second!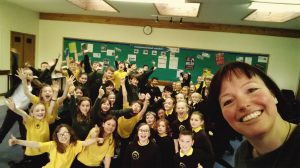 Punch Launch events in the Central Belt
What a lovely time I had in Glasgow at the Scottish Mask and Puppet Centre, talking Punch with almost seventy kids from Kelvinside Primary School! They took a video of part of the show. Take a look if you like: https://twitter.com/KelvindalePS/status/926472151363878922 .
The day after, I was at Waterstones Edinburgh. I always mean to take a selfie, but this time I actually remembered! 🙂
I'm very grateful to everyone who came, especially all my pals from SCBWI South East Scotland!
Blog Tour and upcoming Punch launch events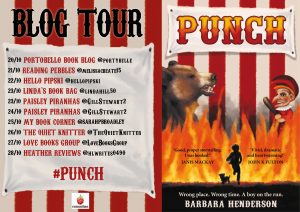 • Blog Tour runs from 20th-28th October inclusive
• 26th Oct: School Launch, Crown School, Inverness
• 26th Oct: Launch at Waterstones Inverness (6pm)
• 3rd Nov: Scottish Mask and Puppet Centre Launch Event
• 4th Nov: Waterstones Edinburgh West End (2pm)
• 25th Nov: Society of Children's Book Writers and Illustrators Mass
Book Launch, Winchester
• 29th Nov: Schools/Public Event, Culloden Library for Book Week Scotland
• 30th Nov: 'Nourishing Local Writers' Showcase, Waterstones Inv.
• 2nd Dec: Fir Trees in Folklore & Fiction: Barbara Henderson reads
from her children's novels Fir for Luck and Punch (which both
feature Fir trees) and explores the stories and legends around our
beloved Christmas trees. Simpson's Garden Centre, Inverness.
Islay Book Festival
What a lovely time I had on Islay! Brilliant primary school audiences, a fab puppetry event, beautiful landscape and a friendly welcome!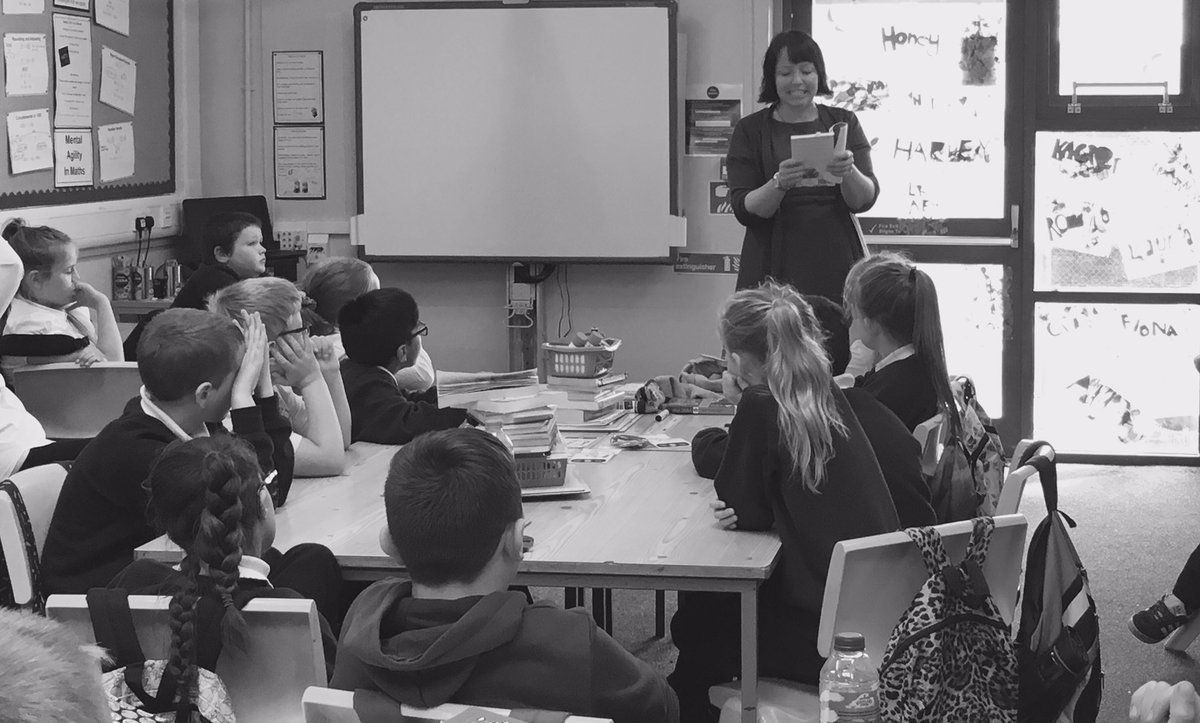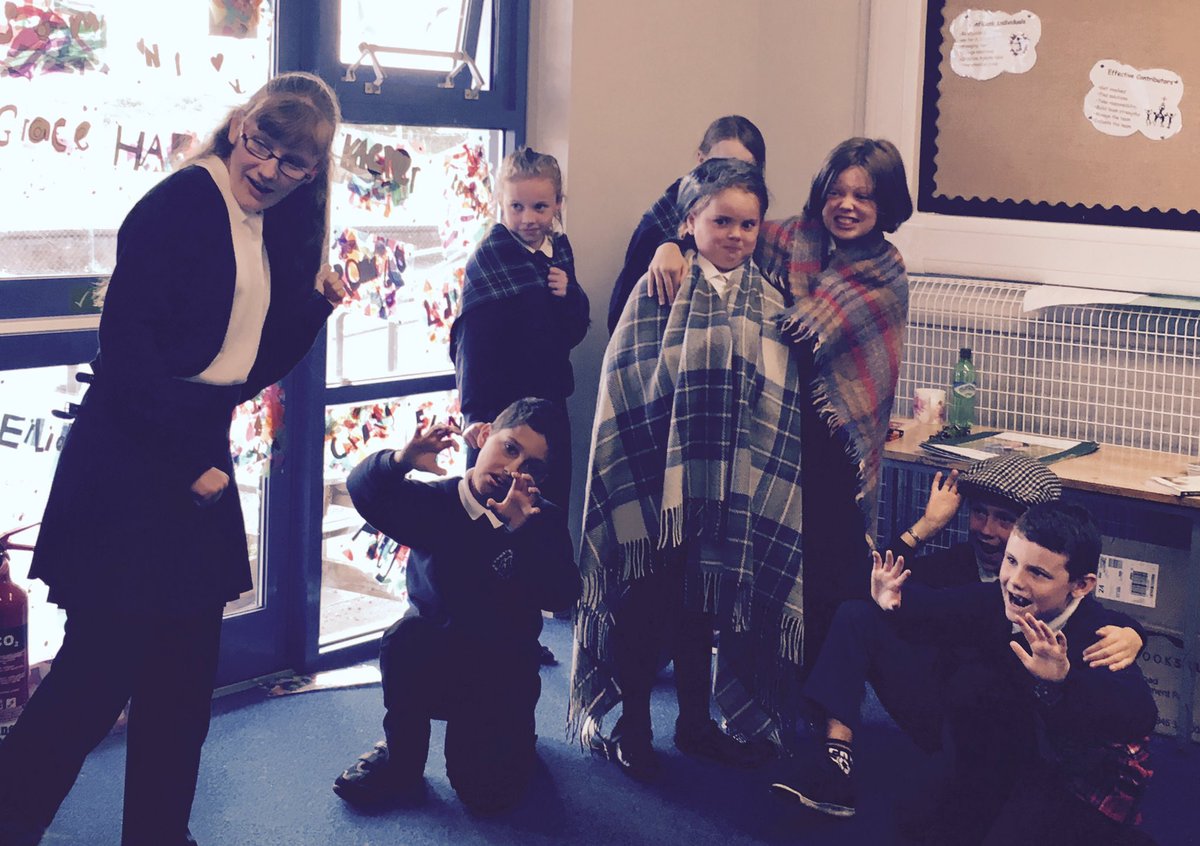 Have a look here!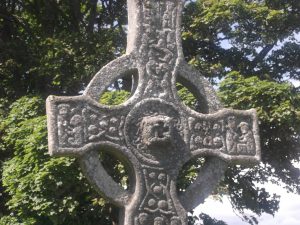 WEA Lunchtime Talks
On Wednesday I had the chance to chat to interested Inverness folks at a WEA lunchtime talk at the library. As you can see, it was a dreich day, but I had no trouble filling an hour talking about researching children's fiction set in the Highlands!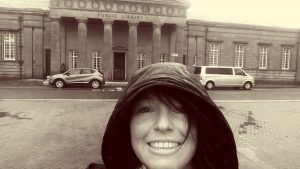 Nairn Book and Arts Festival
What a fab time I had with the four Nairn schools I had the privilege to visit! Thanks so much for having me, Auldearn, Millbank, Rosebank and Cawdor! Major fun!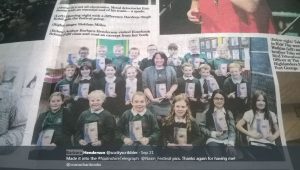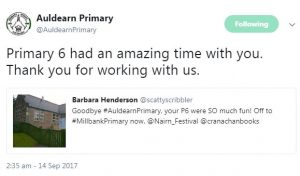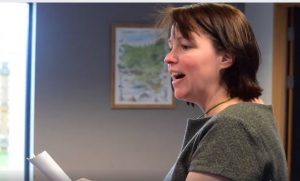 Less than a month before the Nairn Festival Food Fair: 2nd of September. Never thought I'd do a cooking demonstration in the name of literature!! Feel free to come and laugh at me!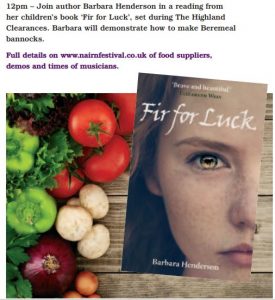 #PUNCH Book Trailer
The process has begun – I wrote a sort-of screenplay and last Friday, Ross, the man with the camera, came up from Glasgow to spend a day filming. It rained. Actually, no, it bucketed down for much of the morning! Thankfully, the afternoon was much better, so we managed to get what we needed (we think!).
For me, the highlight was being allowed to handle Inverness Museum's collection of Victorian Punch and Judy puppets and film them. For this fan girl, it doesn't get any better than this!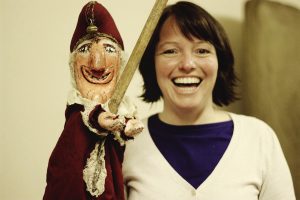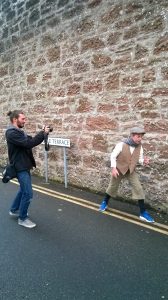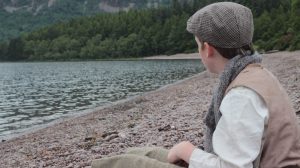 Aviemore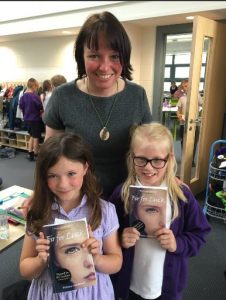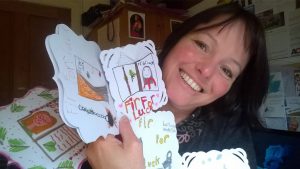 Aviemore Primary School is SUCH a good place to visit! Scenic drive, enthusiastic and all-round-lovely kids and a committed and friendly bookseller who kept me company while I was there. Thank you very much, Kelly from Waterstones Aviemore! Both for all you work to organise the day, and for delivering the loveliest thank you cards afterwards.
XpoNorth
XpoNorth 2017 has been a fantastic experience! I attended a really interesting session offered by the BBC Writers' Room, gave my first proper screen interview and participated in a lovely Publishing Scotland panel on writing and publishing in the Highlands and Islands.
Great fun, lots of local and wider connections made, and now? Now I have to wait a whole year for the next one!
You can watch my interview at https://www.youtube.com/watch?v=bL9HB0iDnSc
THE BIG REVEAL: 9th May 2017
Cranachan, my publishers for Fir for Luck, have gone public: they are going to publish my second novel, a Victorian boy-on the-run story called Punch, set against the backdrop of the Punch and Judy heyday, with travelling entertainers and dancing bears – and a wee Royal cameo, too! I am over the moon!
The announcement comes on the anniversary of the first Punch show recorded in the UK: The famous diarist Samuel Pepys (yes, he wrote pretty much all we know about the Great Fire of London!) made reference to 'an Italian puppet play' on 9th May 1662. A mere 355 years later today, it has been announced: Punch will be published in October 2017. All I have to do now is to finish this round of edits. Click on the link to my blog if you'd like to follow my journey to publication with this one: write4bairns .
What a week! (End April 2017)
This week has been mad – but great! First of all, there was a fun morning at the lovely Muirtown Primary School in Inverness, with a focus on music and culture during the Highland Clearances.
The day after, I got to travel all the way up to Bettyhill for a museum workshop at the epic Strathnaver Museum. It was a great day, filled with drama, music and Fir-for-Luck fun, as well as a fab museum-led activity on tea and toast, now and then. I want to go back!!!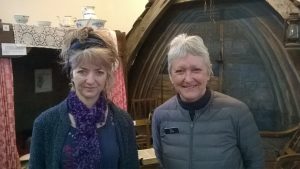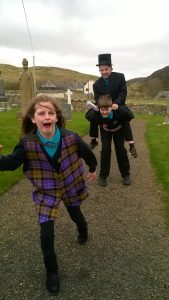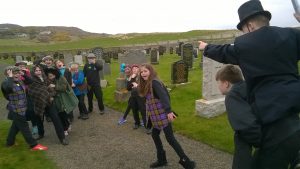 Website Update
Did you know my publishers, Cranachan, have updated their website? Lots of exciting developments. Take a look here if you like!A Book Festival Booking for September
The big news is that I'll be appearing at Islay Book Festival in September. I am so excited! Read their announcement HERE.
Book Festival
I have been booked to appear at another book festival later in the year – so exciting! Unfortunately, I can't share details yet – understandably, they want to reveal their own programme. Buzzing.
I'm also in discussions with several other schools and museums, so I'll keep you posted.
Tomnacross #2
The baking was a real success, and very enjoyable. The best bit was that the pupils genuinely seemed to like the beremeal bannocks, so I'll definitely be doing this again. While they were in the oven (the bannocks, not the children!), we had a question and answer session about the publication process. The last question I took was from a lovely girl who asked: 'When are you coming back to see us?'
Mission accomplished!

Tomnacross #1
So, my first visit to Tomnacross is over. Some Fir for Luck readings, lots of drama and a creative writing game involving the giant dice! Next week: baking, Highland Clearances style. Can't wait! I'm sure there will be lots of messy pics to share!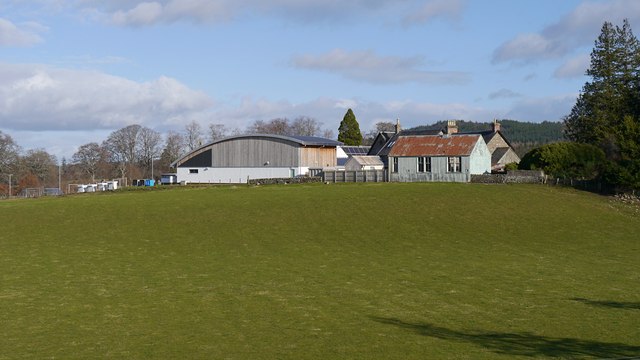 World Book Day
I visited Farr Primary School near Inverness for some Fir for Luck fun! Early, first and second level classes and a whole creative mix of inventive ideas and dramatic energy!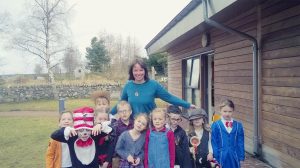 Dornoch
I went to Dornoch Academy to work on creative writing and editing skills with S4, S5 and S6 classes – ahead of folio deadlines later in spring. It was great to meet everyone, and I especially loved the beautiful drive along the coast! Gorgeous part of the world! Here is what the Higher pupils had to say in their anonymous feedback. I was pretty happy with that!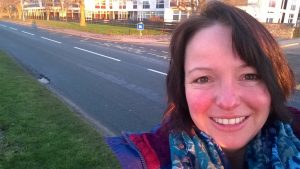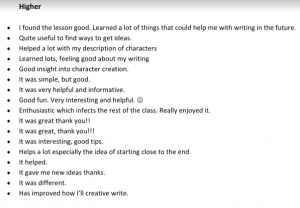 I was also featured on a couple of book blogs in March: https://thrillerswithattitude.wordpress.com/ and https://esthernewtonblog.wordpress.com/2017/03/03/guest-writer-spot-61/ . Take a look!
#Bookface Flash-Competition Winners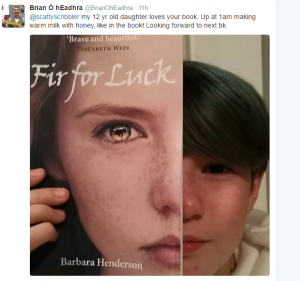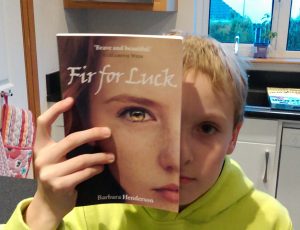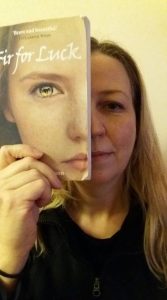 Happy reading, and thanks to all the others who took part! The collage will appear as soon as I have turned it into something beautiful! 🙂
Luncarty
I visited Perthshire to spend a day with pupils at Luncarty Primary school earlier in the year. It was fantastic to see the Fir for Luck reach extend beyond Highland! And what wonderful classes – a really enjoyable day. One of my highlights was to have young Drew play a chanter solo for me – a very talented lad!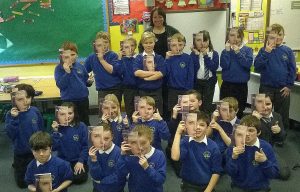 In November 2016, I appeared at NessBookFest in a packed children's section at Inverness Library.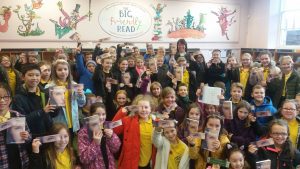 Also in November 2016, I flew to Winchester to take part in the annual SCBWI Conference (Society of Children's Book Writers and Illustrators). I was able to take part in their Mass Book Launch, and Fir for Luck featured on the awesome celebration cake!
Finally, I got to travel to Skye for my very first Author #BookWeekScotland. Thank you, Skye Reading Room! I was privileged to meet wonderful writers at my writing-for-children workshop, had a lovely Reading Room event for my book and spent a day at Portree Primary School meeting classes who had done Highland Clearances projects.