Thanks for dropping by!
This website contains all sorts of information about me, Barbara Henderson, and my writing.
I am a writer of children's fiction – my debut is my historical children's novel Fir for Luck. My new novel, Punch, was released in October 2017 and Wilderness Wars, my next book, will be released in the summer! It's only just been announced!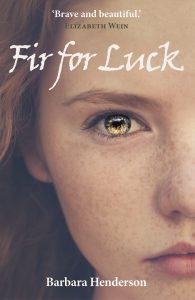 I also write all sorts of other things – check out the sections of this website and see what you can find out!
You can click through to my (already established) blog or check out the pages to find out about the things which inspire me, my writing, information about visits and upcoming events. I'm still in the process of adding information and updating various sections, so keep checking back for the latest!
 By the way, I love connecting with readers and with other writers, so please leave comments on my blog and follow me on Facebook, Instagram or Twitter by clicking on the icons – I'd love to hear from you!
Go on – take a look around!
The Latest:

Guess what! Punch has been shortlisted for the Crystal Kite Award, a peer given prize by the Society of Children's Book Writers and Illustrators!