Hi there! Lovely that you've dropped by!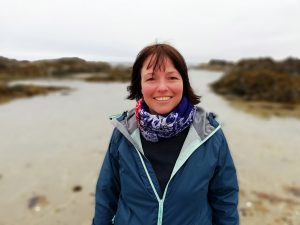 I write novels for children: Fir for Luck  (2016), Punch (2017), Wilderness Wars (2018), Black Water (2019), The Siege of Caerlaverock (2020) and The Chessmen Thief (2021). I have also written a non-fiction book for adults called Scottish by Inclination (2021). Alongside writing and visiting schools as an author, I also work as a drama teacher in the beautiful Highlands of Scotland.
First and foremost, my writing is aimed at children, but I also enjoy dabbling in short stories and Drama. In addition, I write reviews of books, theatre, music and spoken word events, plus a book-ish column for a clutch of North of Scotland newspapers. In addition, I run a group for those interested in writing for children.
I love books, nature's wild places, history, baking, folk music (I fiddle badly in my church band), old buildings, mosaics, Celtic Christianity, thick woolly jumpers…
Oh yes: And I do have a soft spot for all things puppetry. You have been warned!
Writing Success

:
Historical Association Young Quills: The Siege of Caerlaverock is shortlisted (2021)
Society of Children's Book Writers and Illustrators Crystal Kite: Punch was shortlisted in 2018.
Nairn Festival Short Story Competition (2012) – Winner
Creative Scotland Easter Monologue Competition (2013) – Winner
Ballantrae Smugglers Festival Short Story Competition (2015): Winner
Pockets Magazine Fiction Contest, US (2015): Winner
Kelpies Prize (2013) : Never Back was one of three shortlisted.
ACW UK Short Story for Children Competition (2014)  – Runner-up
Scottish Association of Writers' Write Up North 2014:  3rd place